It's been 40 years since Tom Cruise made his big screen debut (he had a minor role in the 1981 romantic drama Endless Love). Over the last four decades he has brought to life such infamous characters as Lt. Pete 'Maverick' Mitchell, Jerry Maguire and Ethan Hunt.
Cruise has played Ethan — the charismatic Impossible Missions Force (IMF) agent — six times, but up until a few weeks ago I had only seen the first film in the Mission: Impossible series. With the seventh film due out later this year, I thought I better rectify that.
Here's my ranking of each film from the series so far, which is similar to the Rotten Tomatoes ranking except our feelings on Mission: Impossible and Mission: Impossible – Rogue Nation are quite different.
If you haven't watched all of the series,

there may be some spoilers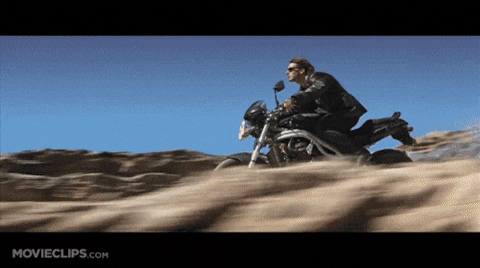 6th. Mission: Impossible II (2000) ★★
There's a line that is said a couple of times in the most recent film in the series, Mission: Impossible – Fallout: "The IMF is Halloween… A bunch of grown men in rubber masks playing trick-or-treat." That line, although said tongue-in-cheek, exactly sums up how I feel about Mission: Impossible II.
The sleek, cool moves seen in the first film are replaced by excess: a huge amount of stunts, cheesy one liners and that cool move with a mask from the first film is repeated around five or six times. To be honest, the phrase 'how the mighty have fallen' comes to mind, the saving grace being that it does have a fairly interesting plot that is very close to home in the current climate.
5th. Mission: Impossible – Rogue Nation (2015) ★★★
The plot — Ethan and his team are investigating the existence of a mysterious international terrorist consortium known as the Syndicate — sadly feels, in my opinion, quite flat. Rebecca Ferguson is a fine addition to the cast as a disavowed MI6 agent, but the primary antagonist is very uninspiring.
There are a handful of fun scenes, including one where Tom Hollander is the Prime Minister of the UK, but ultimately it feels quite forgettable and even writing this short review I'm having to remind myself of the finer details.
4th. Mission: Impossible III (2006) ★★★½
After sitting through Mission: Impossible II, the third outing is, thankfully, much stronger.
A lot of the excess has gone — including Ethan's longer hair — and instead we see a completely different side of Ethan, as we meet the woman who he has fallen in love with and wants to marry (Michelle Monaghan's Julia). Indeed, he has left active duty and is instead training new recruits.
As is the way with Hollywood blockbusters, this happiness can't last forever. Enter Philip Seymour Hoffman's ruthless Owen Davian. Ethan and his new team, Luther (Ving Rhames, who appears in every film), Declan Gormley (Jonathan Rhys Meyers) and Zhen Lei (Maggie Q), must track Davian down before he sells a mysterious dangerous object known only as 'The Rabbit's Foot'.

3rd. Mission: Impossible – Ghost Protocol (2011) ★★★½
While Simon Pegg had made his debut in the previous film (Mission: Impossible III) as IMF operative Benji, he has a much larger part in the fourth film with series newcomers Jeremy Renner and Paula Patton, both IMF agents, also joining.
The plot sees Ethan and the entire IMF blamed for the bombing of the Kremlin. The whole of IMF is disavowed and Ethan and his team have to enact 'Ghost Protocol' to continue investigating a mysterious terrorist with ambitions of a global nuclear war.
As always, Ghost Protocol is as action-packed as the rest of the series, but Patton in particular is a great addition to the cast and it's pleasing that her character isn't there purely as a love interest and instead adds extra depth to Ethan and his team.
2nd. Mission: Impossible – Fallout (2018) ★★★★
Fallout builds on elements from Rogue Nation with several supporting cast members reprising their roles. While the series has lost Jeremy Renner after two films, it gains muscle in the form of Henry Cavill, a CIA agent tasked with escorting and overseeing Ethan and his team of IMF agents.
As is the way with the series, Fallout is action-packed, globe-trotting and has excellent choreography. It has taken a long while but it feels like the series is in its groove: solid foundations have been built between Ethan and his two stalwart team members, Luther and Benji, with a healthy dose of humour alongside intrigue and action.
1st. Mission: Impossible (1996) ★★★★
The original and best, in my opinion. Mission: Impossible is sleek, intelligent and action-packed, delivering exciting stunts that have earned their places in movie-making history.
It's a simple story in that it follows one plot line — the fall out from a mission that goes awry — and the characters themselves are as we see them; they have little backstory and you take them at face value. However, it's a film that you need to pay attention to or else the subterfuge and espionage may get the better of you.