When I posted about my Top 10 Films Not in the English Language I was touched that so many people left their personal recommendations. One of those people was Table 9 Mutant from Cinema Parrot Disco.
As you can see from the comments she left, Table 9 Mutant is a big fan of anime. She kindly listed some of her favourite films from Studio Ghibli (a Japanese animation film studio) after I told her that I hadn't watched any before.
After listing some of her favourites — including My Neighbor Totoro and Nausicaä Of The Valley Of The Wind — I decided I would start with one of the more children-friendly ones first, Ponyo.
Written and directed by Hayao Miyazaki, and animated by Studio Ghibli, Ponyo tells the story of a young goldfish who dreams of becoming a human.
After escaping the ocean and her overprotective father, the goldfish meets five-year-old Sōsuke, a human boy. Sōsuke names her Ponyo, although we later learn her name is actually Brunhilde and there's a lot more to her than meets the eye.
---
Ponyo was the perfect film for me to start my Studio Ghibli journey with, mostly due to the fact that the sea has long cast a spell on me.
I spent a happy three years at a university on the seafront and have a soft spot for water-based films, especially if there is an element of danger or disaster. Perhaps it's because I'm a Pisces.
Within a few minutes of pressing play on Ponyo I was smiling.
Following an intriguing first scene with a flame-haired man on a four-flippered submarine with hundreds of orange fish — what we later come to know are goldfish daughters — and one slightly larger one gathered around him, a beautiful, joyful ballad starts and the opening titles begin.
The slightly larger goldfish is Ponyo, and as the film progresses we begin to understand more about her family and the magical powers that they possess.
These fanciful details, together with the impact they have on nature, are beautiful contrasted with the more mundane scenes of everyday Japanese life in the small coastal town where Sōsuke lives.
While the film begins with Sōsuke discovering and rescuing Ponyo, we then see Sōsuke and his mother, Lisa, going about their usual business: Sōsuke going to school and Lisa working at a nursing home. However, the attention to detail is spot on and for some reason I became fixated by the fact that we saw Lisa turn around to check her positioning while reversing.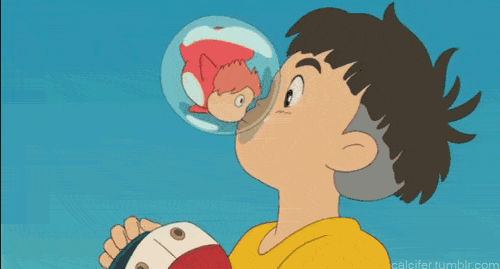 Ponyo is a whimsical tale heavily inspired by Hans Christian Andersen's 'The Little Mermaid' together with elements borrowed from Wagner's powerful 'Ride of the Valkyries' and nods to Japanese superstition.
There are also clear parallels to the impact that Man is having on the planet. These include an early scene showing the man-made debris dredged up by a fishing boat and the flame-haired man — who we come to learn is Ponyo's ex-human/wizard father — saying that "this revolting era of Man will be over".
While there are a couple of flaws in Ponyo — while not a flaw as such I did wonder why Sōsuke calls his mother by her first name! — I was completely enthralled by Ponyo.
The story is beautiful and the kind, considerate Sōsuke is well balanced by Ponyo's exuberant joie de vivre as she experiences life as a human and her long longed for arms and legs. What Miyazaki has done so brilliantly is capture the simple, joyful spirit of childhood.
Ponyo was a delightful first dip into the magic of Studio Ghibli and I'm looking forward to my next dive.
★★★★★
---
Gake no Ue no Ponyo (2008)
English title: Ponyo on the Cliff
Director: Hayao Miyazaki
Vocal talent: Yuria Nara, Hiroki Doi, Tomoko Yamaguchi
"A five-year-old boy develops a relationship with Ponyo, a young goldfish princess who longs to become a human after falling in love with him." – IMDb.